CP Real Estate cordially invites our clients, colleagues and friends to the leading real estate trade show in New York – the Cooperator's Co-op, Condo & Apt. Expo.
About the event:
The Co-op, Condo & Apt. Expo offers an excellent opportunity for board members, shareholders, property managers and apartment building owners to meet building service companies, attend educational seminars and to network with their peers within this highly specialized industry. The Expo attracts around 3,000 attendees annually.
When & Where:
The event will be held on Wednesday, April 26, 2017 (9:00 AM – 4:30 PM) at The Hilton New York Hotel – 1335 Avenue of the Americas, New York, NY 10019.
Cost & Registration:
Free of charge. Click here to register: https://coopexpo.com.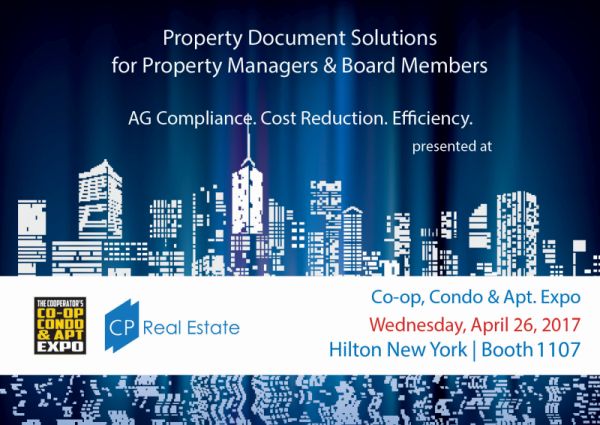 CP Real Estate | Booth 1107:
CP Real Estate will exhibit at this popular event and present its innovative property document solutions. Attendees will learn about our:
–Offering Plan on Demand (OPOD)
–Digital Libraries of Property Documents
–Attorney General Compliant CD-ROMs
–NEW Digital Submission Requirements for Cooperative Interests in Realty
–Full-Service Real Estate Printing.
Counsel Press serves our attorney clients from within 12 physical locations nationwide, including 6 with state-of-the-art production facilities. Our services focus on the rule compliant service and filing of all appellate matters, and also include divisions specializing in filing within the Supreme Court of the United States, cutting-edge eBrief technology, on-demand legal research and writing for our attorney clients and real estate development and offering plans. Last year Counsel Press assisted over 7,000 customers, located within all 50 states, with over 8,500 filings in 81 jurisdictions nationwide and internationally.