On Tuesday, July 28, 2015, the New York State Bar Association will host their new live CLE program titled, U.S. Supreme Court & New York Court of Appeals Round-Up. Counsel Press is proud to support and attend this program, and we invite attorneys in the New York State area to join us and their peers at this worthwhile event.
About the program:
At this program, the panel of expert attorneys will discuss recent noteworthy cases from the 2014-2015 U.S. Supreme Court Term and from the New York Court of Appeals, with an emphasis on what New York lawyers need to know for their day-to-day practice.
Where & When:
This program will be presented at the State Bar Center Great Hall, 1 Elk Street, Albany, NY 12207; on Tuesday, July 28, 2015 at 12:00pm - 2:15pm.
Registration Rate:
The New York City Bar Association registration rate is: Member $95; Non-Member $195.
CLE Credits:
The program offers 2.5 hours in Areas of Professional Practice.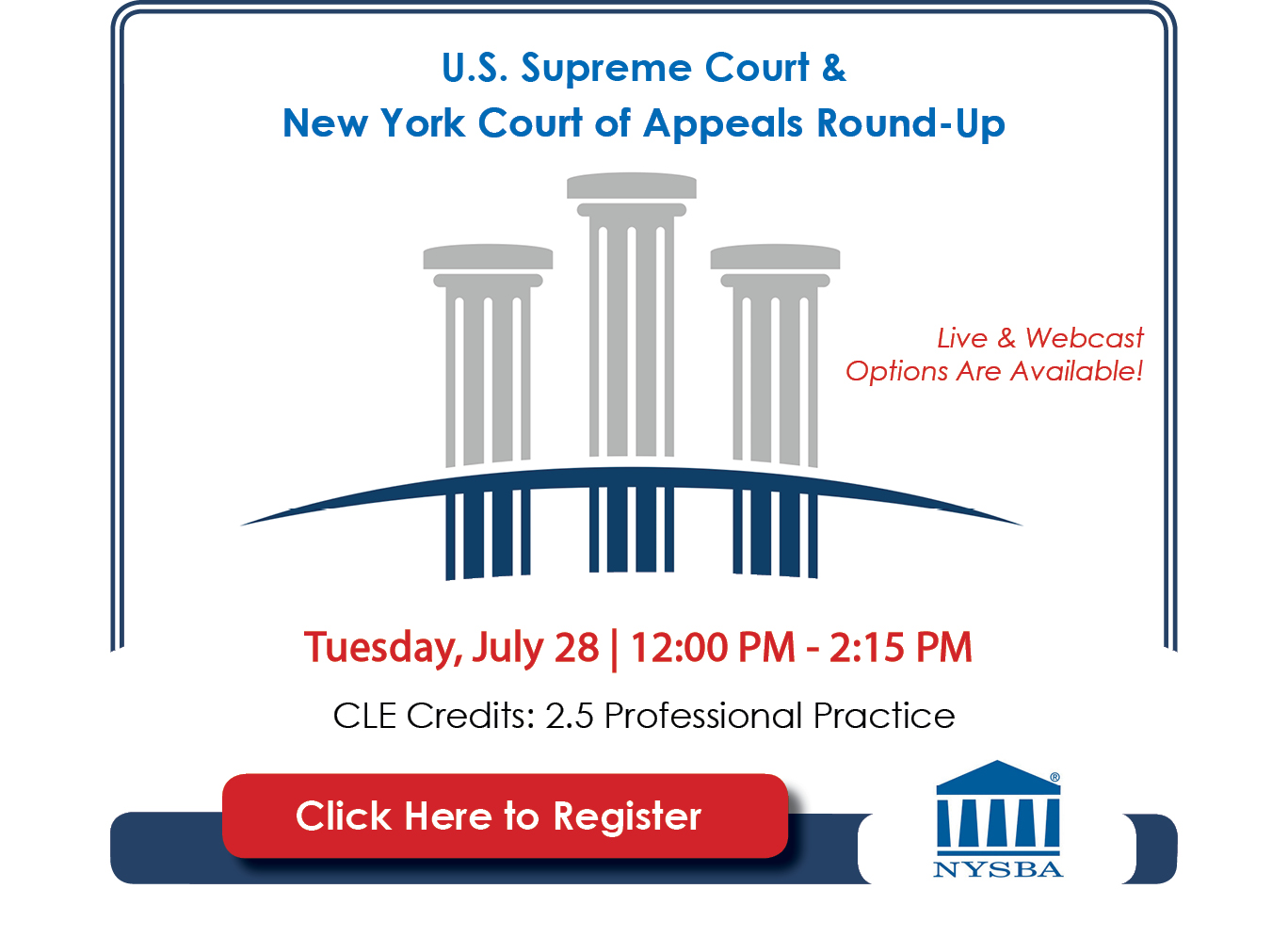 To Register:
Please use the following link to register for the program: Click here.
Visit The New York State Bar Association
Counsel Press serves our attorney clients from within 12 physical locations nationwide, including 6 with state-of-the-art production facilities. Our services focus on the rule compliant service and filing of all appellate matters, and also include divisions specializing in filing within the Supreme Court of the United States, cutting-edge eBrief technology, on-demand legal research and writing for our attorney clients and real estate development and offering plans. Last year Counsel Press assisted over 7,000 customers, located within all 50 states, with over 8,500 filings in 81 jurisdictions nationwide and internationally.