Counsel Press joins The Daily Record at their Excellence in the Law Awards event, honoring members of the legal community with three distinguished awards: Top Women in Law, Up & Coming Attorneys and Unsung Legal Heroes.
Counsel Press congratulates all 2015 Excellence in Law Award winners! We are proud to sponsor and attend the awards luncheon, and we invite attorneys in the Rochester area to join us and their peers at this worthwhile event.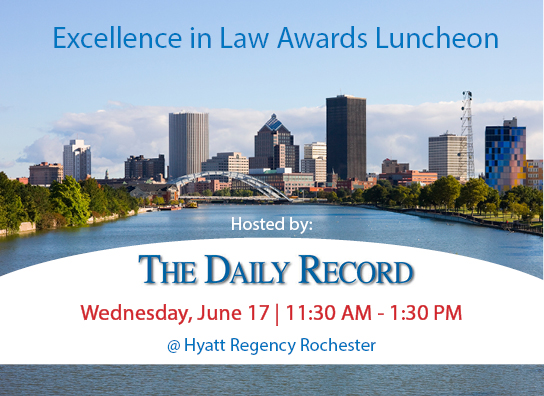 When: Wednesday, June 17, 2015 at 11:30AM 1:30PM.
Where: Hyatt Regency Rochester, 125 E. Main St., Rochester, NY 14604
To Register: Please RSVP via this link.
Counsel Press serves our attorney clients from within 12 physical locations nationwide, including 6 with state-of-the-art production facilities. Our services focus on the rule compliant service and filing of all appellate matters, and also include divisions specializing in filing within the Supreme Court of the United States, cutting-edge eBrief technology, on-demand legal research and writing for our attorney clients and real estate development and offering plans. Last year Counsel Press assisted over 7,000 customers, located within all 50 states, with over 8,500 filings in 81 jurisdictions nationwide and internationally.