CP Real Estate cordially invites our clients, colleagues and friends to the leading real estate trade show in New York – the Cooperator's Co-op, Condo & Apt. Expo.
About the event:
The Co-op, Condo & Apt. Expo offers an excellent opportunity for board members, shareholders, property managers and apartment building owners to meet building service companies, attend educational seminars and to network with their peers within this highly specialized industry. The Expo attracts around 3,000 attendees annually.
When & Where:
The event will be held on Wednesday, April 13, 2016 (9:00 AM – 4:30 PM) at The Hilton New York Hotel – 1335 Avenue of the Americas, New York, NY 10019.
Cost & Registration:
Free of charge. Click here to register: https://coopexpo.com.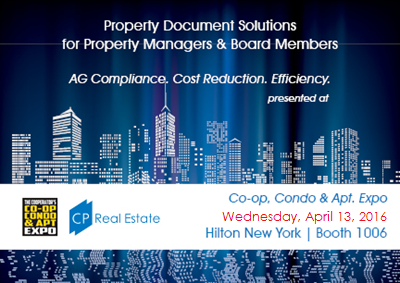 CP Real Estate | Booth 1006:
CP Real Estate will exhibit at this popular event and present its innovative property document solutions. Attendees will learn about our:
–Offering Plan on Demand (OPOD)
–Digital Libraries of Property Documents
–Attorney General Compliant CD-ROMs
–NEW Digital Submission Requirements for Cooperative Interests in Realty
–Full-Service Real Estate Printing.
OPOD for iPad Contest:
In appreciation of attendees' time and interest for CP Real Estate services, Counsel Press will hold an OPOD for iPad Contest. There is an option to participate in the contest without attending the Cooperator's Co-op, Condo & Apt. Expo on April 13. See Contest Rules below.

CONTEST RULES: There are two ways to participate in the contest: (1) You must stop by booth #1006 at the Cooperator's Co-op, Condo & Apt. Expo on April 13, 2016 and be identified by a Counsel Press' representative as eligible to use CP Real Estate Offering Plan on Demand (OPOD) service; and/or (2) You must contact Counsel Press on or before April 30, 2016 via email at gortiz_at_counselpress_dot_com and order your free Offering Plan on Demand (OPOD) sample. You can participate both ways and you will have two entries in the contest drawing. You will need to provide your own name and work email address to be entered into the contest drawing. Contest begins March 31, 2016 and ends April 30, 2016.
CONTEST PRIZE: One prize winner will receive an Apple iPad. The prize must be claimed within one week of notification or it will be awarded to another entrant selected in the same manner as the winner of the unclaimed prize. The prize is non-transferable, non-negotiable and not redeemable for cash, credit or merchandise.
CONTEST WINNER: The winner will be selected by random drawing from among eligible entries. The winner will be notified on or before May 15, 2016 by email addresses used for the contest. Odds of winning depend on number of eligible entries received. Entrants agree Counsel Press has the sole right to decide all matters and disputes arising from this contest and that Counsel Press' decision is final and binding.
Counsel Press serves our attorney clients from within 12 physical locations nationwide, including 6 with state-of-the-art production facilities. Our services focus on the rule compliant service and filing of all appellate matters, and also include divisions specializing in filing within the Supreme Court of the United States, cutting-edge eBrief technology, on-demand legal research and writing for our attorney clients and real estate development and offering plans. Last year Counsel Press assisted over 7,000 customers, located within all 50 states, with over 8,500 filings in 81 jurisdictions nationwide and internationally.