We cordially invite attorneys in Rochester, NY area to join Counsel Press' Sr. Appellate Counsel Robert Brucato, Esq. for our new CLE program, "An Introduction to Practice in the U.S. Court of Appeals for the Second Circuit." Attendees will learn the methods for initiating and filing appeals in the Second Circuit including an overview of the rules, an explanation of the many required forms, timing considerations, requirements for briefs and appendices, motions, oral arguments and costs.
This program is presented in conjunction with the Monroe County Bar Association, and it will feature the Hon. Joseph D. Valentino, Appellate Division – Fourth Department, as moderator. The program is open to both MCBA members and non-members.
When: Thursday, February 19, 2015 at 4:00PM-5:30PM.
Where: City Grill ~ 384 East Avenue, Rochester, NY 14607.
CLE Credit: 1.0 Professional Practice and 0.5 Ethics. (Appropriate for all attorneys.)
Cost: MCBA Member $50.00; Non-Member $90.00.
To Register: Please use this form or register online at www.mcba.org/Calendar.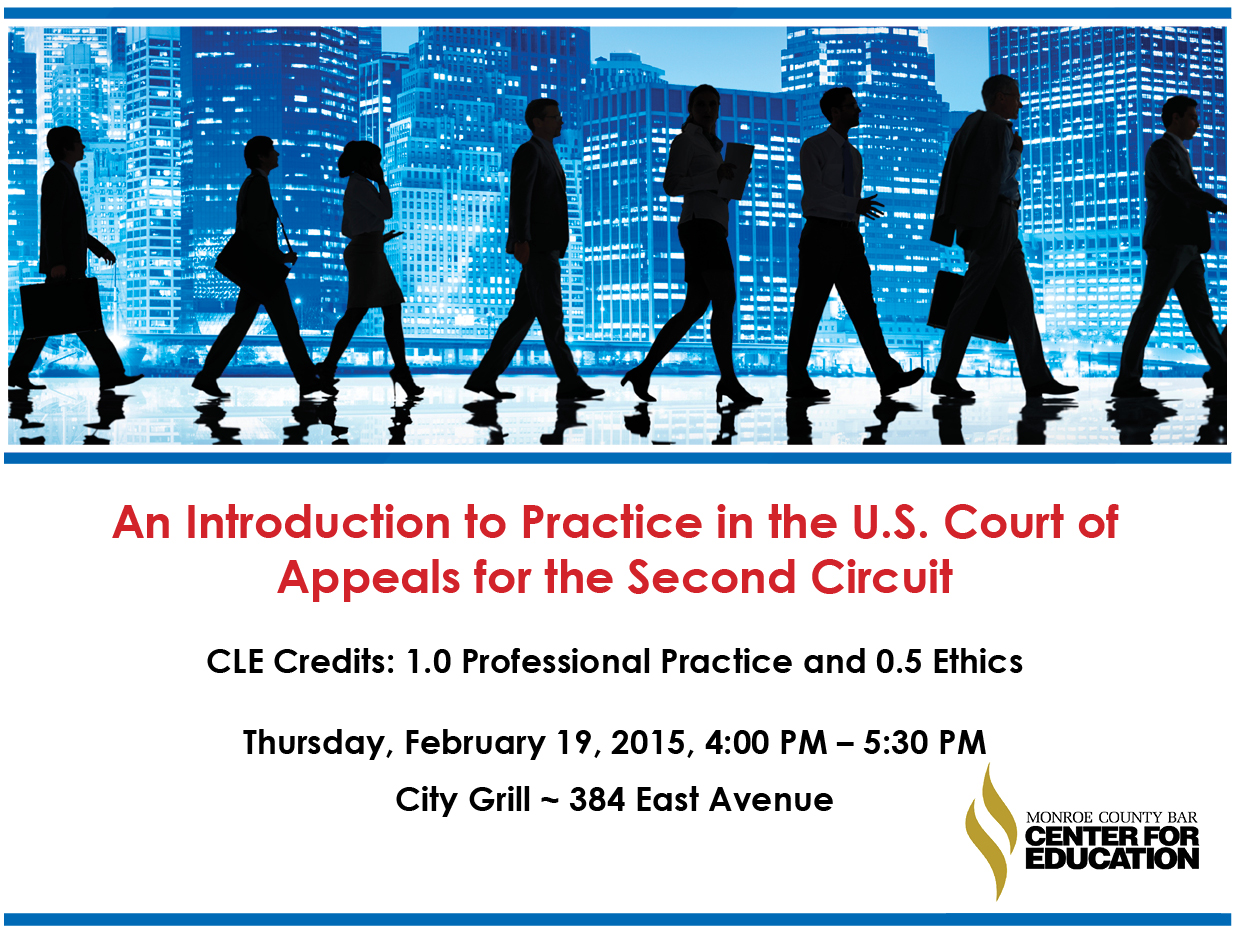 CLE - Appeals in the Second Circuit - MCBA Registration
Counsel Press serves our attorney clients from within 12 physical locations nationwide, including 6 with state-of-the-art production facilities. Our services focus on the rule compliant service and filing of all appellate matters, and also include divisions specializing in filing within the Supreme Court of the United States, cutting-edge eBrief technology, on-demand legal research and writing for our attorney clients and real estate development and offering plans. Last year Counsel Press assisted over 7,000 customers, located within all 50 states, with over 8,500 filings in 81 jurisdictions nationwide and internationally.