Counsel Press joins the New York County Lawyers' Association at their one-day CLE event, titled "The Experts' Guide to Appellate Practice: The Basics and Beyond." Attendees will learn from a panel of appellate practitioners, clerks of the court and appellate judges what one needs to know to handle an appeal – from appellate fundamentals to advanced appellate practice.
The highlight of the program will be hearing a Judicial View from the Court of Appeals by Hon. Sheila Abdus-Salaam, as well as Views from the Appellate Division by Hon. Leonard B. Austin, Hon. Robert J. Miller and Hon. John W. Sweeney.
Counsel Press is a proud sponsor of this worthwhile event. Counsel Press' appellate counsel will be at the event to meet clients and answer any questions on appeals in the New York State Appellate Division, as well as the New York Court of Appeals and the U.S. Court of Appeals for the Second Circuit.
When: Thursday, November 6, 2014 at 9:00 AM – 5:00 PM.
Where: 14 Vesey Street, 2nd Floor Auditorium, New York, NY 10007.
CLE Credit: 8.0 CLE credits for both NY and NJ.
Cost: $175 for NYCLA members; $225 for non-members.
To Register: Please use this link.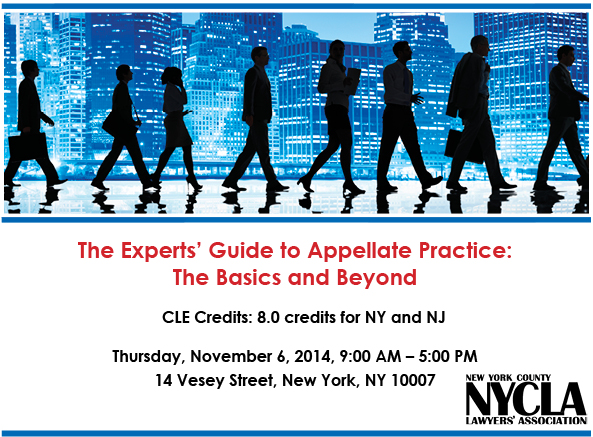 Visit the New York County Lawyers' Association
Counsel Press serves our attorney clients from within 12 physical locations nationwide, including 6 with state-of-the-art production facilities. Our services focus on the rule compliant service and filing of all appellate matters, and also include divisions specializing in filing within the Supreme Court of the United States, cutting-edge eBrief technology, on-demand legal research and writing for our attorney clients and real estate development and offering plans. Last year Counsel Press assisted over 7,000 customers, located within all 50 states, with over 8,500 filings in 81 jurisdictions nationwide and internationally.