We cordially invite attorneys in the Buffalo, NY area to join Counsel Press' team and your peers at our 21st Annual Client Reception. This event has always been a great success, and we look forward to meeting Counsel Press' long-term and new clients again this year!
Guests will enjoy the sumptuous food and top-shelf bar. To celebrate clients' valued contribution to our continued success, a raffle will be held for prizes and services. Most importantly, the event will provide an opportunity for clients to get to know the Counsel Press team, and also meet their industry peers and network. Building relationships – that's what it's all about.
When: Thursday, October 23, 2014 at 5:00 pm - 8:00 pm.
Where: The Mansion on Delaware Avenue, 414 Delaware Avenue, Buffalo, NY 14202.
To Register: Please use this link.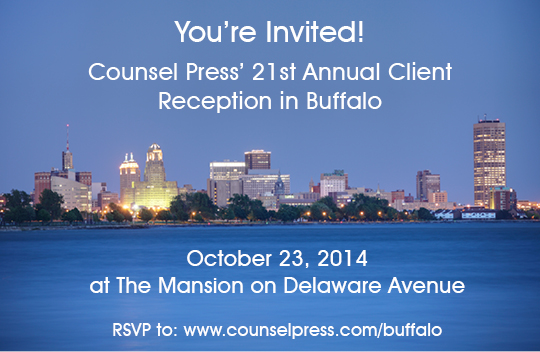 Counsel Press serves our attorney clients from within 12 physical locations nationwide, including 6 with state-of-the-art production facilities. Our services focus on the rule compliant service and filing of all appellate matters, and also include divisions specializing in filing within the Supreme Court of the United States, cutting-edge eBrief technology, on-demand legal research and writing for our attorney clients and real estate development and offering plans. Last year Counsel Press assisted over 7,000 customers, located within all 50 states, with over 8,500 filings in 81 jurisdictions nationwide and internationally.